Preview: The Art of the Cold Brew
At Blue Bottle we believe in the value of education—especially when it comes to making coffee. We have invested our heart and soul into developing and refining our techniques for preparing coffee over a range of methods and we are excited to share them all with you here. Our courses walk you through the same in-depth information and training that we use with our own staff in cafes across the globe. You will learn how to select the right beans, the variables in pouring techniques, our thoughts on how to grind for different brew methods, and so much more. Let our coffee experts be your guide on a journey that will have you making delicious coffee for the rest of your life.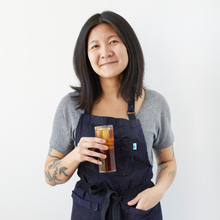 Yi-Ling Yang
New Cafe Opening Leader, Blue Bottle Coffee
Yi-Ling has been with Blue Bottle Coffee since 2014, working her way from Barista to Cafe Leader to New Cafe Opening Lead. She got the coffee-loving genes from her mama, and cafes always remind her of her family in Taiwan. As a former student of interior architecture, she's happy to have the perfect combination of her passions in her work at Blue Bottle. When not obsessing over straight lines inside a cafe, you can find her picnicking in San Francisco parks and petting strangers' dogs.
Javier Acevedo
Trainer, Blue Bottle Coffee
Javier Acevedo has been with Blue Bottle Coffee since 2015, working his way from Barista to Cafe Leader to Trainer. His two passions are hospitality and teaching coffee so there isn't a place he would rather be than at Blue Bottle. Nothing makes him happier than a berry pound cake and a Three Africas pour over. When he's not talking coffee, he spends his time saving stray kittens and playing chess.