This virtual on-demand class is for anyone who loves crisp, refreshing cold brew and wants to learn to make cafe-quality cold brew in their own home. The process of making cold brew may seem deceptively simple, but there is a wide range of tips and tricks that can level up your cup. We will walk you through two immersion methods from the ground up and share the very same techniques that have helped define the standards we use in our very own cafes around the world. We will cover how to create recipes, work with extraction, select the right ice, and so much more. Purchase class for $10 or activate your Gift Card Code at Checkout. Total running time 50 minutes. Captions available for ASL viewers. Subtitles available in Spanish.
1

A Message from the Instructor

2

3

The Range of Brewing Options

4

The Hario Cold Brew Bottle

How to Use the Hario Cold Brew Bottle

Evaluating your Hario Cold Brew Bottle Coffee

5

How to Use the Toddy Brew System

Creating the Recipe for Your Toddy Brew System

Evaluating Your Toddy Brew System Coffee

6

New Orleans–Style Iced Coffee

What Is New Orleans–Style Iced Coffee?

New Orleans–Style Iced Coffee Kit Walk-through

How to Brew New Orleans–Style Iced Coffee

How to Mix New Orleans–Style Iced Coffee

7

8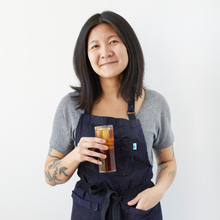 Yi-Ling Yang
New Cafe Opening Leader, Blue Bottle Coffee
Yi-Ling has been with Blue Bottle Coffee since 2014, working her way from Barista to Cafe Leader to New Cafe Opening Lead. She got the coffee-loving genes from her mama, and cafes always remind her of her family in Taiwan. As a former student of interior architecture, she's happy to have the perfect combination of her passions in her work at Blue Bottle. When not obsessing over straight lines inside a cafe, you can find her picnicking in San Francisco parks and petting strangers' dogs.